Recognition Leaderboard on the NewsFeed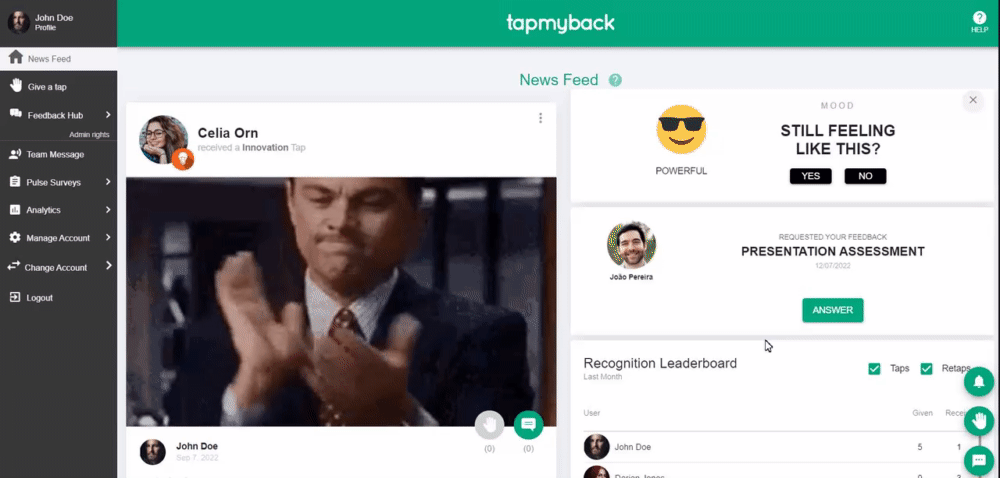 You can now see a Recognition Leaderboard on the Newsfeed of your Tap My Back app. This allows you to know who on your team has given and received the most taps, retaps, or both, in the last month, as well as the total number of taps and retaps given on your team.
As a manager, you can use this feature to track recognition in your team, further motivate your employees, and promote a feedback culture within your organization. You can also make use of this information to implement "employee of the month" initiatives or a rewards system. Unleash your creativity and find the best way to recognize your co-workers' proactivity.
Note: To unleash this feature, the activation needs to be done by contacting us directly at [email protected].
Team Messages with Video
Tap My Back now allows you to share all kinds of videos, as a Team Message, with the rest of your team.
As an admin, you can send Team Messages including self-made videos, tutorials, institutional videos, or any other type, and make them available for your whole organization or a specific team easily and effectively.
All you have to do is click on the "Team Message" feature on the sidebar on the left, paste the URL to the video you want to share, write any description that you think is necessary, and share it. You also have the option to share it only with specific teams and to notify all team members by email.
Watch this video for a more in-depth walk-through of this new functionality:
---
---
New Active Surveys Cards (with new function)
Tap My Back has new and improved active survey cards, with more functionalities than ever! You can now see who has answered your pulse surveys and send notifications to those who still haven't responded (by push notification and email).
Increase the participation rate in your organization and reach better and more accurate conclusions about the pulse of your team!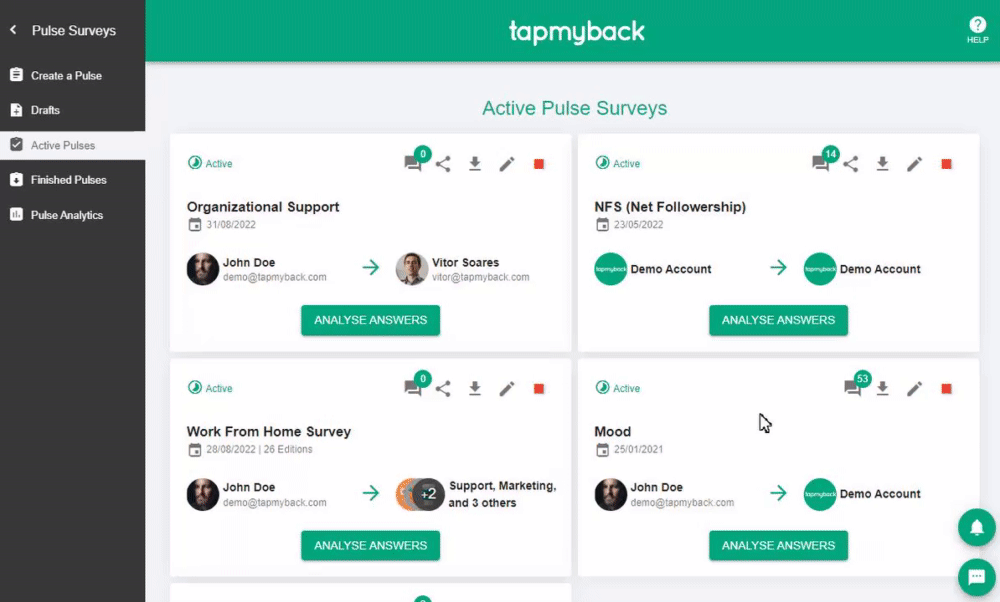 ---
However, these updates are not the only ones! 🥳
Other improvements:
- It's now possible to access users' profiles more easily! You no longer have to go through the user management or team members' menu. All you have to do is click on the person's name and be redirected to their profile.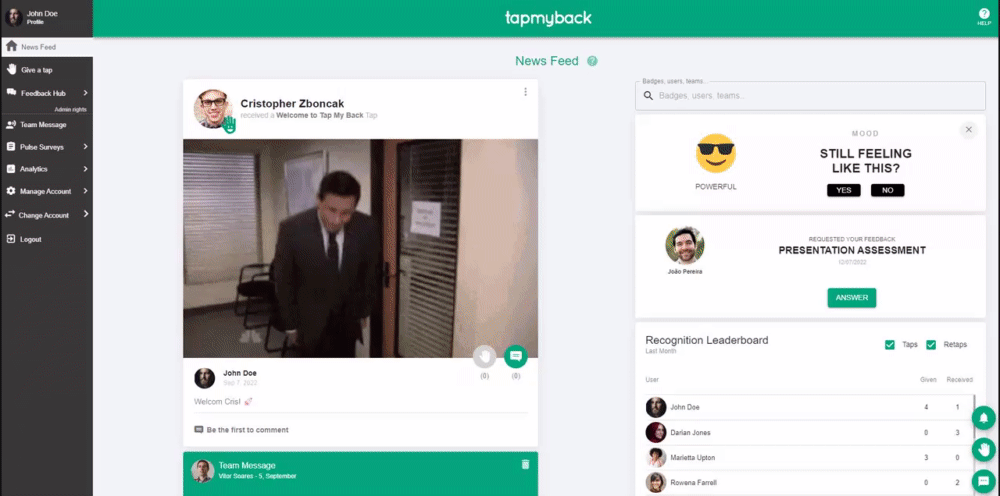 - NPS-type questions are now available for private feedback templates! At Tap My Back, we believe that feedback can come in many forms and formats, and we want workers to have as many options as possible to accurately express how they feel. Get valuable insights from your employees and improve their experience!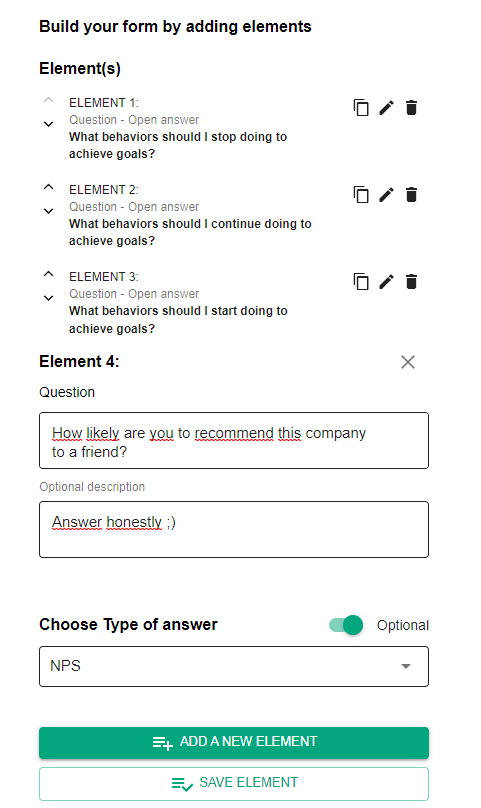 - You can now divide your surveys and feedback requests into sections to better organize the questions. This way, you can make it as straightforward as possible for your colleagues to give you feedback.
- In your profile, you are now able to filter data based on dates. Choose which period you want to analyze, and evaluate feedback, recognition, and your mood within that period.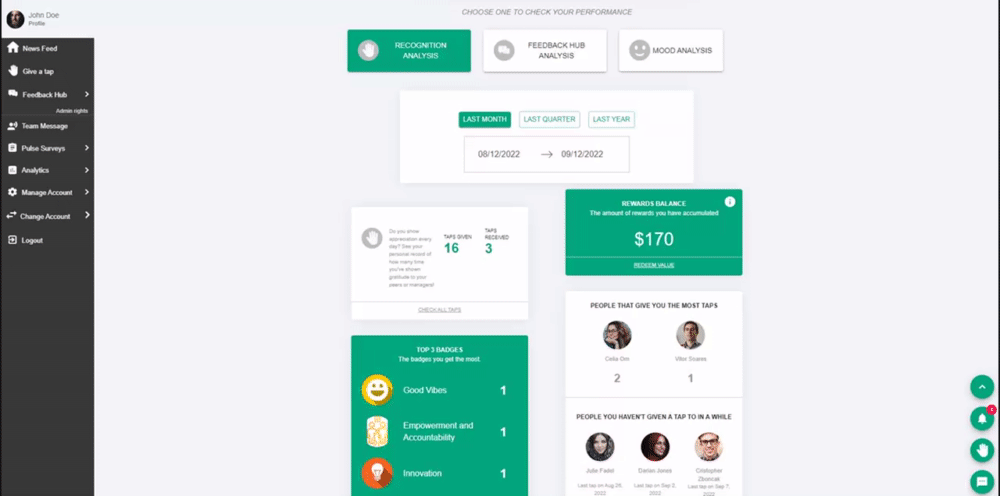 - Have you noticed some changes in your News Feed? It now shows your top 3 badges and rewards balance so you can access all the information you need about how others view your performance!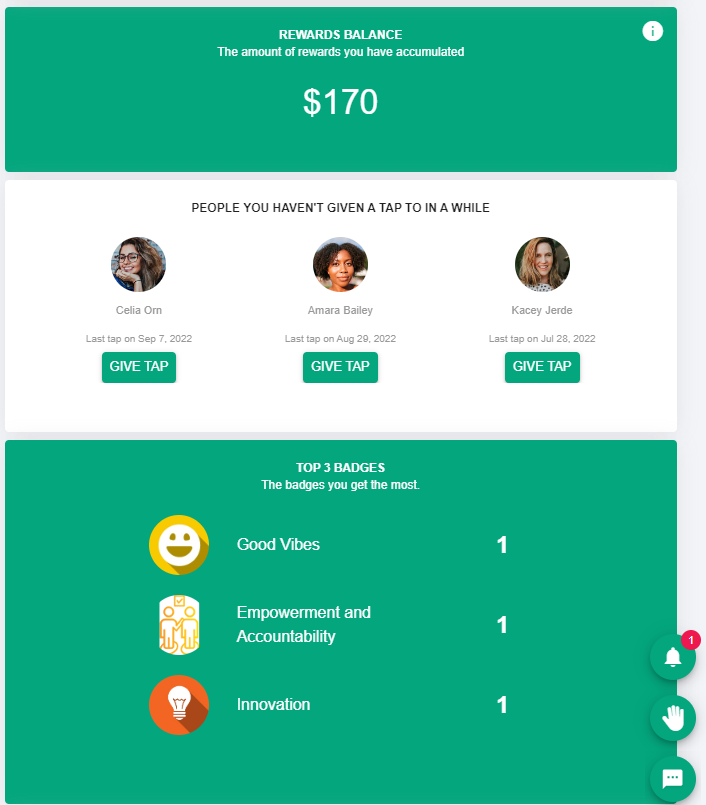 - We have a new template available for giving feedback from scratch: "Simple Feedback".
- When creating a new template, you can now see a preview of what it will look like, so you can make adjustments before sending it to your collegues.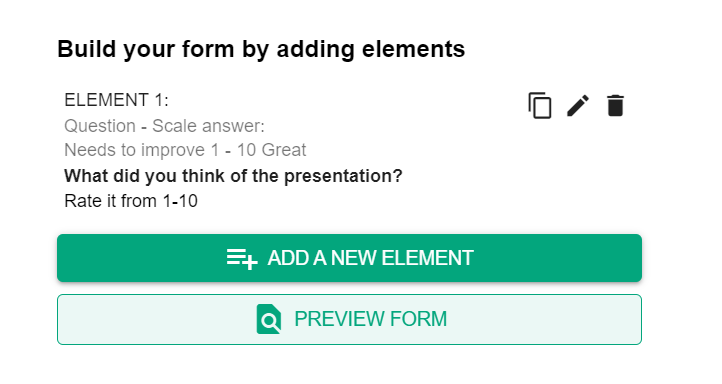 - The filters you use on your News Feed search are now saved for your next session so you can choose which content to see when you log in.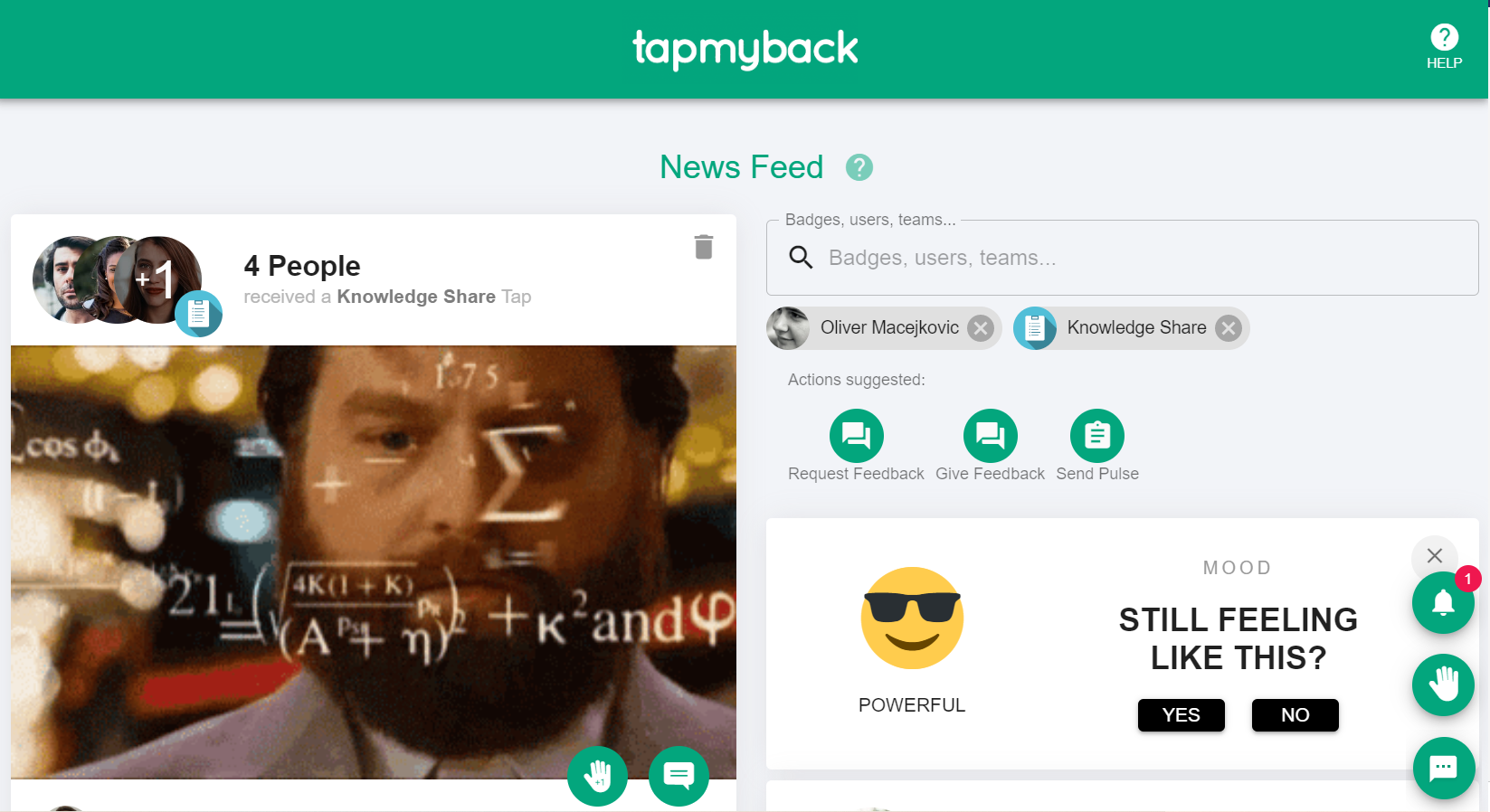 - We continue working on performance improvements in order to increase speed⚡
---
To ensure a smoother use of our app, we corrected some bugs and issues, of which we highlight:
Corrections in the editions date of scheduled feedback requests

Search button removed from Personal Profile, Rewards Analytics, General Settings and Upgrade

Added Spanish translation to Feedback tips

Only send automatic notifications to users on their active times

Feedback template title and description are now set as default when using it for new feedback

Fixed Slack emoji issues on Recognition

Secondary mood options are no longer showing strange values in the dropdown list

GIFs are now easier to select on all smartphone screens

Solved skills filtering issue on Feedback Analytics

Individual mood votes are no longer appearing broken on mobile devices
---
Please let us know if you have any feedback regarding these new features and improvements by sending us an email at [email protected] or by using the chat widget on our page.