Hello! 👋
As an account administrator, you have the option to connect Recognition to Rewards in your "Manage Account" section.
Build a system of rewards and incentives and contribute to employee satisfaction. Reward each member's contribution, make your staff feel valued and enhance team morale.


See how to do it:
Go

to "Manage Account" and click on "

Recognition Settings";

Enable rewards by moving the lever to the right;
Set a specific value (USD)

to reward employees for each tap;

Choose the right Program;
• On going → reward your employees seamlessly for each tap received


• Time-based → reward the employees who have received more taps in a certain timeframe (every week, every month, every quarter, every year)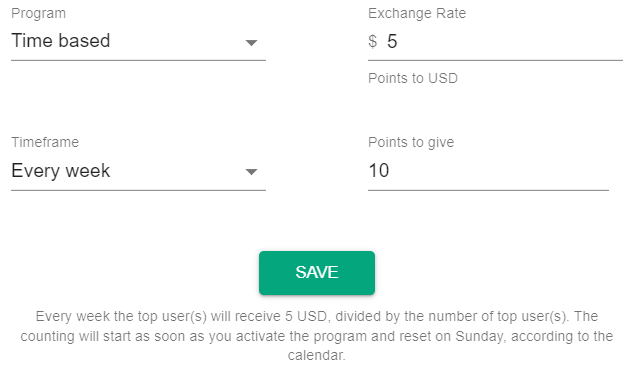 Allow recognized employees to accumulate USD that they can later redeem in gift cards and spend in an extensive catalog of 600+ top brands and charitable companies.

Prefer to create your own catalog? Contact our team to customize your own unique company rewards (featured brand items or non-monetary rewards).
Monitor the flow of rewards for each user through analytics.

Rewards billing cycle 💰
The rewards feature will be incorporated in all our current plans, so it won't increase the prices per user you already know. However, for each reward redemption, a transaction fee of 3% will be applied.
Of course, we will not send you an invoice each time someone does a redemption, but only bi-weekly or monthly, depending on the quantity, with all the transactions in 1 invoice.


Is there a minimum threshold to redeem rewards?
Yes, it's 5 USD by default. However, we can set up a different one (if higher) for your account based on your requirements (e.g. 50USD, 100USD, etc).


⚠️Note : if you don't find this option available in your account, you'll need to request access by simply send an email to [email protected]


Hope this was helpful,

Keep up with us!